SUMMARY OF THE FOREST MANAGEMENT PLAN OF RAPLEX FOREST MANAGEMENT UNIT
(PERIOD 2018-2028)
The Forest Management Plan (FMP) for Forest Timber Licence (FTL) No. T/0560, Raplex Forest Management Unit (FMU) has been approved by Forest Department Sarawak on 14th March 2019 [Ref: (9)JHS/600-3/7/102/Jld.4], summary of the approved FMP as follows;
Chapter 1:  Background of the Management Area.
Raplex FMU has a total area of 63,993 Ha. About 53% (33,860 ha) is located inside Mujong Merirai Protected Forest and the remaining 47% area falls under stateland.
It is located in the central region of Sarawak within Kapit Division and is about 85 kilometres upriver from the town of Kapit along the Batang Rajang.
Raplex FMU was originally referred to as the Rajang-Pila Management Unit when Forest Timber Licence No. T/0560 was first issued in 1977 for 25 years. When it expired in 2002, the licence was renewed for another 15 years to 2017.  Forest Department Sarawak has since further renewed the licence on annual basis in 2018 and 2019 to make preparations to implement certification for sustainable management of the natural forest in the FMU.
Based on topographic analysis using C-band and X-band interferometric RADAR datasets, the FMU has 11.3% terrain class I, 55.7% terrain class II, 29.7% terrain class III and 3.3% terrain class IV.
The Kapit/Merit Series soil type is the most dominant soils found within Raplex FMU accounting for about 45.2% of the area.
Image interpretation derived satellite image datasets, 86.6 % of the FMU is generally still under natural forest cover of Hill Mixed Dipterocarp Forest. The remaining 13.4% of the FMU are open areas that are attributed to water bodies, roads, skid trails and landings of recent harvesting operation and more recent SA activities.
Social Impact Assessment indicates that Raplex FMU has 5 local communities living inside the FMU. In addition, there are 20 other communities that are considered to be Project-Affected Communities (PACs) as they are located within 3 kilometres from the FMU. The ethnic groups among these 25 villages are the Iban Group (13 villages), Punan Group (7 villages), Sekapan Group (2 villages), Kenyah (1 village), Kayan (1 village) and Tanjong (1 village).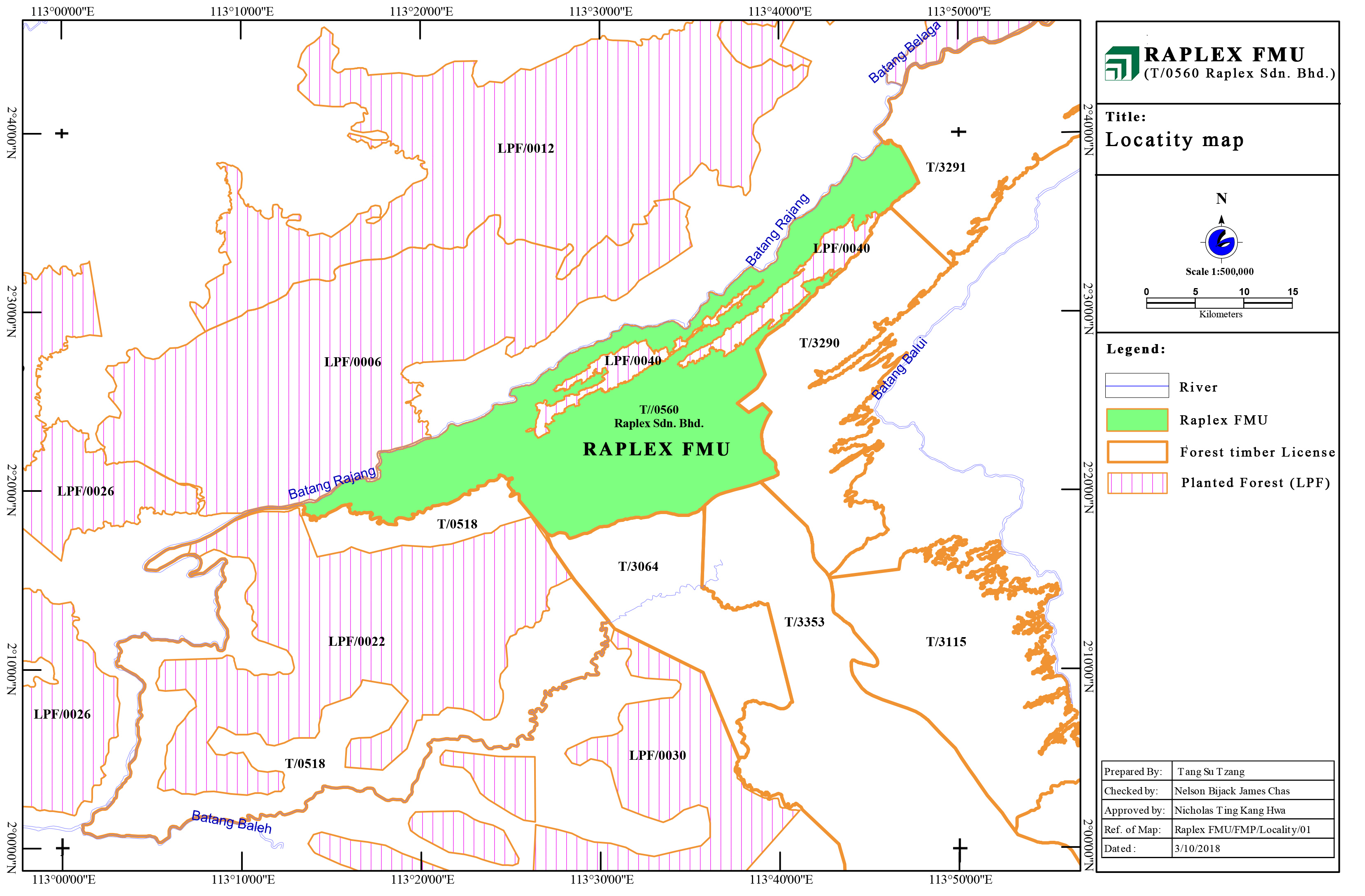 Locality map
Chapter 2:  Forest Resource Assessment
An assessment of the forest stand within the FMU has been done based on the interpretation of multiple date satellite imageries together with information gathered from the field assessment of the permanent sample plots (PSP). Breakdown of forest stand classes are as follow;

7% are classified as MDF I
46% classified as MDF II
33% classified as MDF III
13% classified as open space

32 PSPs plots have been selected and established in Raplex FMU.
An assessment has been conducted to identify Rare, Threatened and Endangered Plant in Raplex FMU, the findings are:

Out of the 217-tree species, 26 species have been categorized as RTE species comprising of 1 Totally Protected Plant i.e. Ensurai under the Wildlife Protection Ordinance 1998, 13 Protected Plants under the Wildlife Protection Ordinance 1998 and 12 Non-Protected Plants.
Considering the 26 ERT species only, 13 of them are considered as endemic species

Breakdown of main forest function within Raplex FMU:

70% Production area
30% Area for Protection (i.e. Community use area, buffer zones etc.)
Chapter 3:  Management Plan Prescriptions
The Management shall abide by all laws and rules which regulate the implementation of the Forest Policy of Sarawak and comply with the requirements of Malaysia Criteria and Indicators for Natural Forest Management Certification [MC&I (Natural Forest)] under the Malaysian Timber Certification Scheme (MTCS).
The management shall follow the cutting rules and minimum diameter cutting limit (MDCL) set by the Forest Department Sarawak (FDS).

Dipterocarp species – 50cm dbh and above
Non-Dipterocarp species – 45 cm dbh and above

The harvesting operation shall adopt the Reduced Impact Logging (RIL).
Period of harvesting: 25 years with 20 annual coupes and 5 years rest (Mean Annual Coupe size 2,240 ha).
A breakdown of the AAC and MPL for the individual coupes based on their respective production forest area is as outlined in Table below:
Coupe

No.

Coupe

year

Production forest

(ha)

AAC

(m3)

MPL

(m3)

1
2018/19
2,653
139,283
11,607
2
2019/20
2,530
132,825
11,069
3
2020/21
2,417
126,893
10,574
4
2021/22
1,972
103,530
8,628
5
2022/23
1,838
96,495
8,041
6
2023/24
2,080
109,200
9,100
7
2024/25
2,948
154,770
12,898
8
2025/26
3,104
162,960
13,580
9
2026/27
2,342
122,955
10,246
10
2027/28
2,092
109,830
9,153
11
2028/29
2,400
126,000
10,500
12
2029/30
2,326
122,115
10,176
13
2030/31
2,026
106,365
8,864
14
2031/32
2,069
108,623
9,052
15
2032/33
2,141
112,403
9,367
16
2033/34
2,079
109,148
9,096
17
2034/35
2,062
108,255
9,021
18
2035/36
2,087
109,568
9,131
19
2036/37
2,001
105,053
8,754
20
2037/38
1,983
104,108
8,676
The FMP shall undergo mid-term review to enable any new and practical recommendation from monitoring to be incorporated so as to keep the Management Plan up to date.
Chapter 4:  Planning of Forest Roads and Harvesting Systems
Planning procedure for the forest roads and harvesting system will be in accordance with the Forest Engineering plan. This shall be conducted in two main stages; The General Harvesting Plan (GP) and Detailed Harvesting Plan (DP)
Chapter 5:  Pre-harvesting Activities
Infrastructure Development – Construction and maintenance of roads, drainage structures and bridges in accordance with the "Guidelines for Forest Road Layout and Construction.
Demarcation – Boundaries for Coupe, Block, area for protection and conservation shall be demarcated before pre-felling Inspection.
Operational Inventory and Tree Marking – 100% tree enumeration for the Harvestable tree (HT), Protected trees (PT), Potential Crop Tree (PCT), Mother Tree (MT), Fruit Tree (FT) and Nesting tree (NT).
Infrastructure – Planning of Landing Sites and Skid Trails shall be conducted as per "RIL Guidelines"
Monitoring and Control – by Sarawak Forestry Corporation (SFC) through Permit to Enter Coupe (PEC).
Chapter 6:  Harvesting Operation
Training of Forest Workers – shall be done in accordance with the Section 51 of the Forest Ordinance, 2015.
Harvesting methodology – shall comply with "RIL Guidelines" with the use of excavator cable yarding/winching.
Tree Felling – Directional felling to minimize damage.
Post-Harvest Activities – include installation of cross drains and sedimentation traps and 10% sampling of post-logging assessment, i.e. logging damage assessment and enumeration of the residual stand.
Measurement, Royalty Marking and Tagging of Logs – CoC will be implemented as per requirement under the implementation of Sarawak Timber Legal Verification System (STLVS).
Chapter 7:  Environmental & SOCIAL Impact Assessment
Environment
An environmental impact assessment (EIA) of the timber harvesting operation within Forest Timber Licence No. T/0560 was carried out by Ecosol Consultancy Sdn. Bhd. in March 2017. The EIA Report has been approved by NREB on 19th December 2017 with reference number (20)NREB/6-3/2F/93.
Mitigation measures – control of soil erosion and sediment pollution, management of drainage and run-off, protection of ecological resources, preservation of water quality, solid waste management, road safety, and management of socioeconomic impact.
Environmental Monitoring Report (EMR) on water quality to be prepared and submitted quarterly. As for logging damage, it was carried out by Sarawak Forestry Corporation (SFC) while the logging operation is in progress and immediately after the logging block has been declared closed.
Social
Ecosol Consultancy Sdn. Bhd. has been appointed as consultant to conduct the social evaluation through consultation on the social impact of the forest operations directly affecting the communities.
Social-economic positive impacts – generation of employment, generation of business opportunities and uplift people economic status.
Chapter 8:  Forest Research
The FMU currently has committed to two (2) main research collaboration with the Applied Forest Science and Industry Development (AFSID) Division of SFC for the establishment and assessment of PSP and Universiti Malaysia Sarawak (UNIMAS) on the identification and monitoring of wildlife and their habitat for sustainable forestry.
Raplex FMU has entered into a scientific collaboration with Sarawak Forestry Corporation (now taken over by Forest Department Sarawak) to establish permanent sample plots.  To-date two PSP has been established in Raplex FMU.
Establishment of preliminary PSP for FMU by consultant.  A total of 32 preliminary PSP's (100m x 100m plot) has been established covering 12 Annual Coupes.  The preliminary assessment indicated average timber volume for all trees with DBH>10.0cm is 269.86m3/ha.
The FMU is currently establishing Forest Resource Assessment (FRA) based on Technical Manual for Forest Resource Assessment in Sarawak prepared by Forest Department Sarawak.  The established FRA will be analysed and using Ranked Set Sampling (RSS), PSP will be selected from established FRA SU.
Chapter 9:  Silviculture
Kelampayan Enrichment Planting – to improve the stocking and growing volume of production forest.
In the future, Raplex FMU may apply other silvicultural methods based on the recommendation of Forest Department Sarawak/Sarawak Forestry Corporation or based on the results of research and studies pertaining to the FRA, PSP, pre-harvesting inventory and post-logging assessment.
Chapter 10:  Wildlife Management
Within this FMU, the logging operator will implement the control measures for wildlife management:

Identification and demarcation of Terrain IV areas, buffer zones and Protection/Conservation areas
Identification and marking of trees for protection
Control of hunting by timber workers, outsiders and local people
Control of access
Appointment of Honorary Wildlife Rangers
Education and publicity
Implementation of wildlife protection and conservation program.
Chapter 11:  Identification and Management of protection areas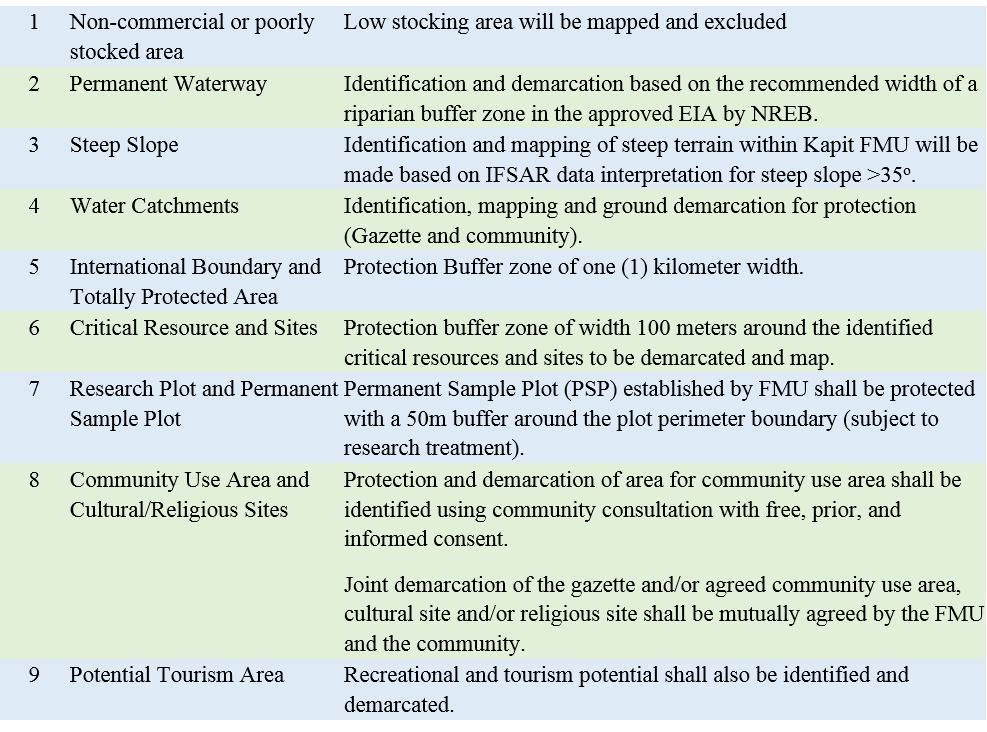 Chapter 12:  HIGH CONSERVATION VALUE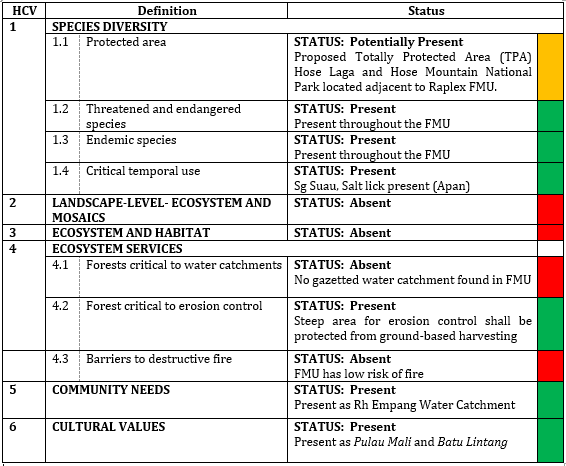 Chapter 13:  Community RELATIONS AND WORKER'S RIGHTS
The objective of community development would be to:

Contribute to local communities through development projects, services and employment opportunities.
Instil awareness between communities and company about shared responsibilities in achieving sustainable forest management (SFM).
Create a mutual relationship with the local community through the establishment of Liaison Committee.
To ensure the rights of workers as outlined in Convention 29,87,98,100,105,111,138 and 182 of the International Labour Organization (ILO) Conventions.
Community
Establishment of Committee Representative Committee (CRC)
Establishment of Forest Management Certification Liaison Committee
Worker
Establishment of Employer and Employee Representative Committee
Chapter 14:  Occupational Safety and Health
The commitment and vision towards safety and health are clearly reflected in the Occupational Safety and Health Policy.
Joint Safety and Health Committee have been established with the objectives to:

To reduce the risk of accident and ensure safe working conditions.
Keep the procedure in line with all applicable laws and regulations.
Instill awareness through briefing and training.

Management will invest in training of its forest workers to improve their quality of work and to carry out their duties safely.
(Update by SFM on 12 Mar 2019)