In line with the directive from the State Government for all Forest Timber Licenses (FTL's) to undergo certification in Sustainable Forest Management (SFM), Ta Ann has consolidated its FTL's and Licences for Planted Forest (LPF's) in the Song-Kapit region into three (3) Forest Management Units (FMU's) namely, Kapit FMU, Pasin FMU and Raplex FMU. They are compliant with the Criteria and Indicators of the PEFC-endorsed Malaysian Timber Certification Scheme (MTCS). We currently have 3 active FMUs that are fully-certified and they cover an area of over 340,000ha.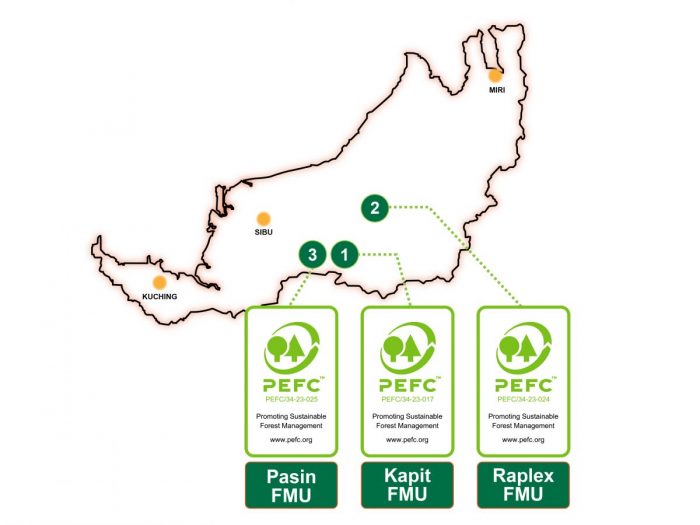 Ta Ann Group Forest Management Unit (FMU)
Raplex Forest Management Unit (FMU) covers an area of 63,993 hectares in the central region of Sarawak within Kapit Division. The FMU operates under the Forest Timber Licence (FTL) No. T/0560 issued to Raplex Sdn Bhd, a 100% subsidiary of Ta Ann Holdings Berhad. Ironwall Sdn Bhd is Raplex FMU harvesting contractor.
The Licence was first issued in 1977 for 25 years, the license was then further renewed for another 15 years to 2017. Forest Department Sarawak has since further renewed FTL No. T/0560 on annual basis.
Raplex FMU can be accessible by express boat and public road from Sibu to Kapit town. FBase camp can be reached by using public road and existing logging road Kapit town passing through Forest Timber License No. T/0518 to teach the boundary of Raplex FMU which covers a distance about 100 kilometres.
Based on the topographic analysis using C-band and X-band interferometric RADAR datasets, the FMU has 11.3% terrain class I, 55.7% terrain class II, 29.7% terrain class III and 3.3% terrain class IV.
The FMU is inhibited by 24 native settlements, 3 settlements are located inside and 21 settlements are adjacent to FMU.
Raplex FMU is the second FMU under Ta Ann Group to undergo Sustainable Forest Management Certification process under the Malaysian Timber Certification Scheme (MTCS), a scheme endorsed by the programme for the Endorsement of Forest Certification (PEFC) and has been awarded the Certificate for Forest Management Certification (Natural Forest) on the 28 June 2019.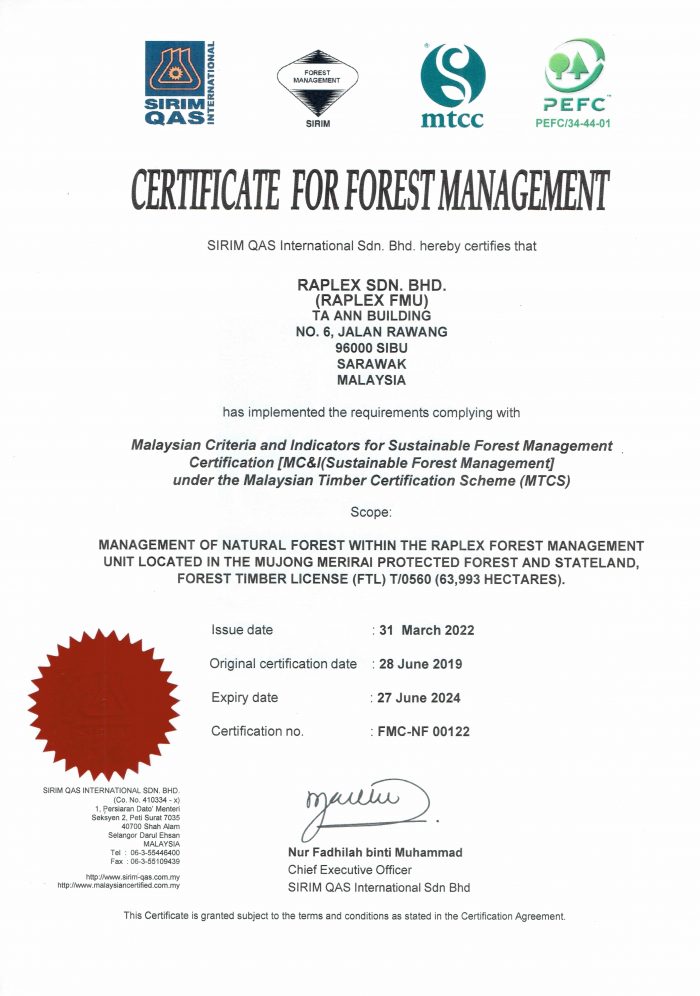 updated on 22 Aug 2022 by SFM Department