HIGH CONSERVATION VALUE FOREST (HCVF)
PUBLIC SUMMARY
The High Conservation Value Assessment at Raplex FMU has been conducted by Pinnacle Forest Solutions Sdn Bhd together with Sarawak Forestry Corporation (SFC) team on 14th-26th March 2017 and produced the HCV assessment report in June 2017.
As required under the Common Guidance for the Management and Monitoring of High Conservation Values (2014) by HCV Resource Network, once HCV assessment report has been produced by the assessor (i.e. SFC), the management or the HCV manager shall prepare management and monitoring plan based on the report prepared by the assessor.
Therefore, the Sustainable Forest Management Department of Ta Ann Holdings Berhad has undertaken the review, coordination and consultation process which includes ground verification of identified HCV as per reported in HCV report prepared by SFC, consultation with field surveyors and local communities and also distributed HCV report to Forest Department Sarawak (FDS) and Universiti Malaysia Sarawak (UNIMAS) for their comment and review.
SUMMARY OF MONITORING FOR IDENTIFIED HIGH CONSERVATION VALUE (HCV) ATTRIBUTES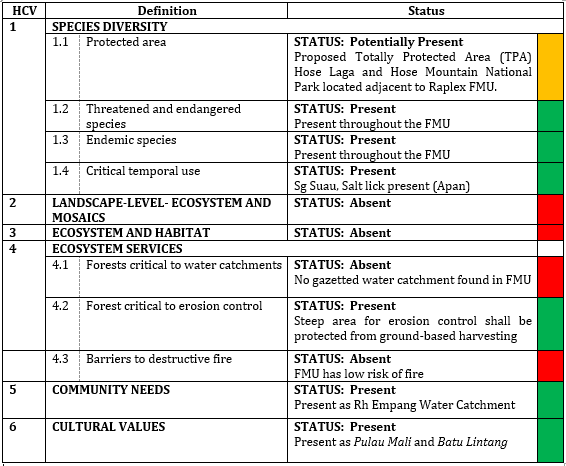 HCV
THREATS
MANAGEMENT PLAN
MONITORING PLAN
1.1
Not present as the TPA is yet to be officially gazetted
Demarcate of buffer zone of 1km width in GP, DP and FMP at the time of official gazettement.

Monitoring of perimeter of buffer zone (ground/aerial) for any sign of encroachment
1.2
Present

Fauna: hunting

Strictly banned of hunting by workers via the implementation of DF circular 6/99.

Establishment of Honorary Wildlife Rangers in detecting wildlife offences and report to Forest Department.

To educate workers and local communities to identify RTE species and on the need to protect RTE and wildlife.

Work place and housing area inspection for firearms, illegal keeping of wildlife and monitor closure of access to feeder road.

Controlled entry to the FMU and record all wildlife collected from FMU (if any).

Conduct wildlife survey (i.e. camera trap, rapid survey, opportunistic sighting) for more accurate determination of RTE species and its species composition.

Present

Flora: accidental felling

To educate workers to identify RTE species and the need for protection.

Marking of identified protected trees with blue tag to prevent accidental felling during harvesting.

Continuous briefing and/training to enhance knowledge on RTE identification and protection

Conduct pre-felling and harvesting inspection and monitoring to ensure that no RTE species are felled during harvesting.

1.3
Present

Fauna: Hunting

To educate workers and local communities to identify and the need to protect endemic species.
Continuous briefing and/training to enhance knowledge on endemic species identification and protection.
Present:

Flora: accidental felling

to select 12 listed endemic species that is not Protected under the Wild Life Protection Ordinance (WPO) as Mother Trees to ensure the existence of the species. Mother trees shall be tagged and protected from felling.

2 endemic species listed in WPO list to be tagged as Protected Species and protected from felling.

To educate workers to identify endemic species and the need for protection.

Continuous briefing and/training to enhance knowledge on endemic species identification and protection

Annual assessment on the effectiveness of protection prescription by analysis of data.

1.4
Present

Disturbance

Salt Lick

To provide 100m buffer zone and demarcate saltlick Sg. Suau as protected and conservation area on planning map. No signage shall be put up so not to attract hunters.

No harvesting in demarcated buffer zone.

Nesting/feeding site

Identification of potential and active nesting or feeding site prior to harvesting. Any found shall be recorded and map in CHP map.

Buffer zone of 200m should be established for active critical temporal use areas especially for RTE and endemic fauna during active harvesting.

Sun bear nests in Coupe 2

Ground verification conducted confirm that the nest is located within Rh Empang water catchment area. Camera traps has been installed near the Empili tree to confirm active or seasonal usage of the site for feeding/nesting.

To inspect the integrity of demarcated buffer zone during active harvesting.

Install camera traps to monitor usage of salt lick by animals.

Monitor wildlife usage using camera traps or any other monitoring method whichever suitable.

To inspect the integrity of demarcated buffer zone during active harvesting.

Continuous monitoring using camera traps to confirm usage of the area for nesting/feeding.

2.0
Not present
–
–
3.0
Not present
–
–
4.1
Not present
–
–
4.2
Present

Harvesting

Mapping of terrain class IV area as per GP and DP map and followed by mapping on CHP and ground demarcation.

No tractor-based operation is allowed in terrain class IV area

Periodical audit, monitoring or inspection to ensure that the prescription is adhere to and ensure that no skid trails or tractor-based operation is allowed in the area.
4.3
Not present
–
–
5.0
Present

Encroachment

Rh Empang Water catchment

Map the catchment area on Planning map (DP & CHP) and followed by joint ground demarcation.

Join mapping through consultative process between FMU and local communities to identify HCV 5.0 located within FMU production forest (if any).

To inspect the integrity of demarcated catchment area during active harvesting.

Visit and consult local communities especially those that are directly affected with active operation

6.0
Present

Encroachment

Pulau Mali

Map and followed by ground demarcation of the area.

Batu Lintang

To consult local community and conduct join verification of the actual location of Batu Lintang.

If found, map the site and followed by ground demarcation of buffer zone.

Join mapping through consultative process between FMU and local communities to identify HCV 6.0 located within FMU production forest (if any).

To inspect the integrity of demarcated catchment area during active harvesting.

Visit and consult local communities especially those that are directly affected with active operation
(updated by SFM on 16 Mar 2018)