MONITORING PERIOD JAN-DEC 2020
The High Conservation Value Assessment at Raplex FMU has been conducted by Pinnacle Forest Solutions Sdn Bhd together with Sarawak Forestry Corporation (SFC) team on 14th-26th March 2017 and produced the HCV assessment report in June 2017.
As required under the Common Guidance for the Management and Monitoring of High Conservation Values (2014) by HCV Resource Network, once HCV assessment report has been produced by the assessor (i.e. SFC), the management or the HCV manager shall prepare management and monitoring plan based on the report prepared by the assessor.
Therefore, the Sustainable Forest Management Department of Ta Ann Holdings Berhad has undertaken the review, coordination and consultation process which includes ground verification of identified HCV as per reported in HCV report prepared by SFC, consultation with field surveyors and local communities and also distributed HCV report to Forest Department Sarawak (FDS) and Universiti Malaysia Sarawak (UNIMAS) for their comment and review.
SUMMARY OF MONITORING FOR IDENTIFIED HIGH CONSERVATION VALUE (HCV) ATTRIBUTES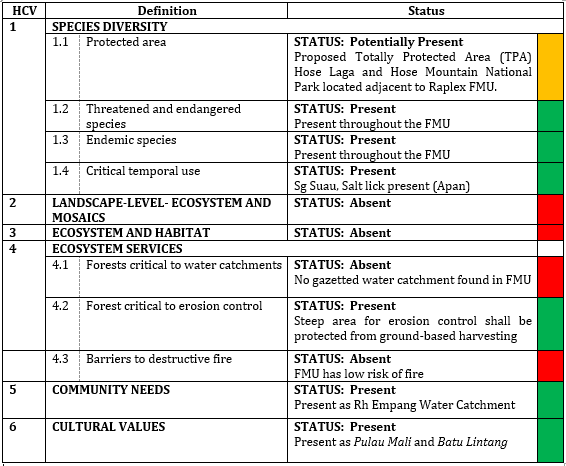 HCV 1.1 – Protected Area
No gazettement of Protected Area within or around Raplex FMU in 2020 by State Government of Sarawak.
Raplex FMU to continuously monitor for official gazettement of the proposed national park. Once the area is gazetted, the management of Raplex FMU to implement suitable management and monitoring prescription to protect and conserve its HCV value.
HCV 1.2 – Rare, Threatened and Endangered (RTE) Species
HCV 1.2
MANAGEMENT RECOMMENDATION
ACTION TAKEN
Strictly banned of hunting by workers via the implementation of DF circular 6/99.
DF Circular 6/99 was emphasized to the staff and forest workers during RTE awareness briefing conducted on 21st – 24th February 2020.

"NO HUNTING" and requirement of DF Circular 6/99 signboard was display at the base camp, site camp and forest nursery camp.
Appointment of Honorary Wildlife Ranger
Applied with Forest Department Sarawak (FDS) on reappointment of two (2) Honorary Wild Life Ranger for Raplex FMU – Mr Lyno Bin Medang and Gendang ak Bili. Memo ref: SFM/MM/2021/02 dated 4th Jan 2021.
To educate workers and local communities to identify RTE species and on the need to protect RTE and wildlife.
RTE awareness briefing conducted on 21st – 24th February 2020. Poster of gazetted Totally Protected and Protected Species of Sarawak under the Wild Life Protection Ordinance is available at base camp, site camp and forest nursery camp.

During the social program at Rh. Gendang and Rh. Tanjong on February and December 2020, the FMU also distribute the poster of Totally Protected and Protected species of flora and fauna to the local community.
HCV 1.2
MONITORING RECOMMENDATION
ACTION TAKEN
Controlled entry to the FMU and record all wildlife collected from FMU (if any).
Book record of hunting activities are available at the gate for controlling the hunting activities by the local communities but no hunting activities by local through the gate were recorded in 2020.
Conduct wildlife survey (i.e. camera trap, rapid survey, opportunistic sighting) for more accurate determination of RTE species and its species composition.
In 2020, two faunal species monitoring was conducted at Raplex FMU. These are; the camera trapping at Suau Salt Lick (collaboration with UNIMAS) and camera trapping before logging at Coupe 02. From the monitoring, three new species were recorded namely moonrat, Jerdon's baza and Asian giant tortoise.

A total of 118 wildlife species recorded from 2017 -2020 with 45% of the total was listed as rare, endangered and threatened (RTE) species and 10 species was endemic to Borneo.
Monitoring of RTE of flora species through enumeration activity
Summary of the tree for protection for Coupe 2 in 2020 is as below.
Protected Tree (PT) – 610 tree (0.252 tree/ha)
Mother Tree (MT) – 940 tree (0.388 tree/ha)
Fruit Tree (FT) – 96 tree (0.040 tree/ha)
Nesting Tree (NT) – 7 tree (0.003 tree/ha)
HCV 1.3 – Endemic Species
HCV 1.3
MANAGEMENT RECOMMENDATION
ACTION TAKEN
To educate workers to identify endemic species and the need for protection.
Preparation of Tree Identification Checklist to the surveyors

The tree will be tagged with a blue tag and mapped.
HCV 1.3
MONITORING RECOMMENDATION
ACTION TAKEN
Ground demarcation and mapping of Sg. Suau salt lick
Sg. Suau salt lick was demarcated with 100m radius buffer zone.

The area is also mapped in HCV map and mapping in a detailed harvesting plan will be conducted once operation reached the coupe in 2037/2038.
HCV 1.4 – Critical Temporal Use
HCV 1.4
Monitoring RECOMMENDATION
ACTION TAKEN
Monitor species dependency of salt lick using camera traps
Based on the data collected by UNIMAS from July 2019 – October 2020, the salt lick is actively used by wildlife.
1. Long-tailed macaque
2. Short-tailed mongoose
3. Otter civet
4. Thick-spined porcupine
5. Bornean yellow muntjac
6. Red muntjac
7. Sambar deer
8. Bearded pig
9. Thick-billed green pigeon
HCV 4.2 – Forest Critical to Erosion Control
HCV 4.2
MANAGEMENT RECOMMENDATION
ACTION TAKEN
Mapping of terrain class IV area as per GP and DP map and followed by mapping on CHP and ground demarcation.
The terrain class IV area was marked in the map as in GP and DP map of Raplex FMU.
Ground demarcation of terrain IV will be conducted during Pre-enumeration activities by coupe to coupe continuously. However, no demarcation of terrain IV conducted in 2020 as no terrain IV at Coupe 02.
HCV 4.2
Monitoring RECOMMENDATION
ACTION TAKEN
Periodical monitoring or inspection to ensure that the prescription is adhere to and ensure that no skid trails or tractor-based operation is allowed in the area.
There is no encroachment to the Terrain Class IV area as no terrain class IV available at coupe 02.
HCV 5.0 – Basic Needs of Local Communities
HCV 5.0
MANAGEMENT RECOMMENDATION
ACTION TAKEN
Demarcation and mapping of water catchment area located within Raplex FMU

The water catchment has been demarcated on the ground and mapped in HCV map.

This will be included in Detailed Harvesting Plan (DP) and Comprehensive Harvesting Plan (CHP) for Coupe 17 (harvesting year 2037/2038).
Identifying HCV 5 site through consultative process with local community
FMU has consulted community of Rh. Tanjong, Belaga on 14th – 15th December 2020 and Rh Gendang, Sg Pila 14th – 15th February 2020. All the identified site is either located within the Shifting Agriculture (SA) or outside the FMU.
HCV 5.0
Monitoring RECOMMENDATION
ACTION TAKEN
To inspect the integrity of demarcated water catchment area
No boundary monitoring conducted in 2020 as no operation at the site in 2020.
HCV 6.0 – Cultural Identity of Local Communities
HCV 6.0
MANAGEMENT RECOMMENDATION
ACTION TAKEN
Mapping and ground demarcation of the area.
FMU has conducted ground demarcation and map Pulau Mali in HCV map.

Mapping of Pulau Mali into Detailed Harvesting Plan will be conducted once harvesting operation reached Coupe 12 in the year 2031.

As for Batu Lintang, the effort to identify the location is still on-going.
HCV 6.0
Monitoring RECOMMENDATION
ACTION TAKEN
Annual monitoring of boundary and signage
No threat of encroachment by harvesting operation as current harvesting operation is located in Coupe 2.
Updated on 27 Oct 2021 by SFM Department